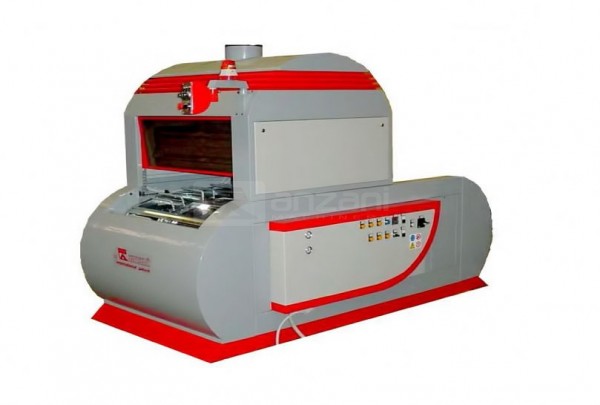 UVCD 2
Vacuum Dryer with NIR Lamps
UVCD 2 is a vacuum dryer, which carries out, for shoes, boots and relative soles, the functions of fast drying and fast reactivation of glue, both solvent and water based. The system is composed by a prechamber, where the glue gets heated until the right temperature and by a vacuum chamber where, through the use of high efficiency infrared NIR lamps, the glue gets completely dried and than reactivated. UVCD 2 differs from UVCD 3 for the smaller size and for the smaller quantity of production.
Anzani's Surplus:
Ultrarapid drying
Great time saving
More efficient production
Great results in the bonding tests
Excellent quality of the final result
Primer, first, second cementing and sole laying in the same machine
NIR infrared lamps system
System for heat anti-loss
Vacuum system
Gas suction system
Separate setting (shoe-sole)
Suitable for both solvent and water based glues
Suitable for any type of footwear
Made in Italy
Technical features
Output in 8 hours
Pairs
500 (water base)
750 (solvent 1 coat)
Rated Power
Kw
12
Average Power
Kw
7
Air Consumption
NL
48
Dimensions
Mm
2290x1230x1840H
Net weight
Kg
940
Get the full catalogue here: http://www.anzanimachinery.it/en/98/newsletter.html
Documents
Enter Name and E-mail to download the pdf catalogs.