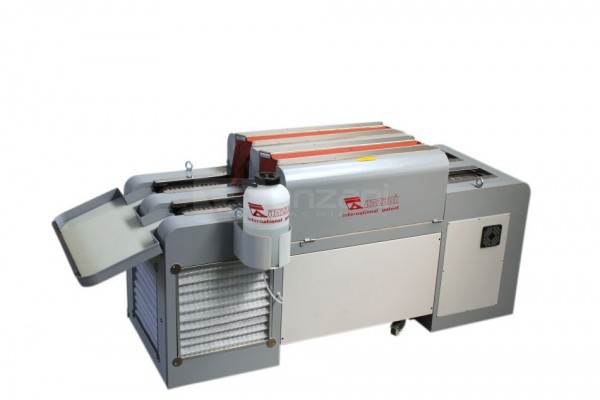 Ecojet
Heat Setter for the Shoe Ironing and Stabilization
ECOJET is a heat setter for ironing and stabilization of the shoe with forced humid hot air, located after the heel seat lasting. Thanks to a technological innovation, Ecojet replaced Turbojet, recognized around the world for its reliability and its excellent results. The heat treatment is made by NIR infrared lamps, that allow a very fast treatment, avoiding heat accumulation inside the last and therefore with an important reduction of the power consumption. The system is suitable for both shoes and boots production and could be used both next to traditional conveyor systems and in Rink systems. Ecojet is available in two versions: with one channel (Ecojet 1), two channels (Ecojet 2) or in the version Ecojet 2500, for producing 2500 pairs of shoes in 8 hours.
Anzani's Surplus:
Excellent quality of the final result
Great energetic saving, only 6 KW consumption
NIR lamps system for leather
Heaters system for synthetic
System for heat anti-loss
Boiler system, for steam production
Easy and quick inspection, for best maintenance
Full regulation possibility
It avoids the detachment of the upper glued with neoprene
Made in Italy
Technical features
Eco Jet 1
Eco Jet 2
Eco jet 2500
Output in 8 hours
Prs
800
1600
2500
Rated Power
Kw
7
21
23
Average Power
Kw
3,5
6
11,5
Treatment cycle
Sec.
18
18
18
Dimensions
Mm
1670x470x1100H
2150x820x1100H
3506x820x1100H
Get the full catalogue here: http://www.anzanimachinery.it/en/98/newsletter.html
Watch the video: https://www.youtube.com/watch?v=2vy-Dy_RC_g
Documents
Enter Name and E-mail to download the pdf catalogs.
---
Gallery