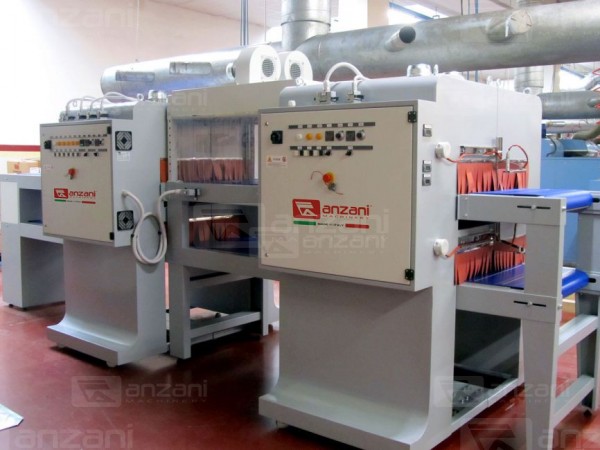 Double Belt Anidros NIR
2 Levels Cement Dryer-Reactivator
Double belt Anidros NIR is a glue dryer, which carries out the functions of fast drying and fast reactivation of glue,both solvent and water based. This machine is made of two levels conveyors and independent treatment chambers. The conveyors may be designed for shoes, soles or components. It is possible to insert one or more treatment chambers, according to the number of glue coats required. The treatment is made through infrared NIR lamps and hot forced air.
The perfect placing of Double belt Anidros NIR is wherever there is high production, where it is required a fast treatment and with independent treatment chambers for shoes and soles, for having an higher production. In fact, this setting is typical of Asian sport shoes production. The treatment with NIR lamps and hot air ensures excellent cement drying, with very low consumption. The short time of treatment avoids an accumulation of heat in the lasts, which allows to then use the chiller to a lower power.
Anzani's Surplus:
Very fast drying
Great time saving
Great power saving
More efficient production
Great results in the bonding tests
Excellent quality of the final result
NIR infrared lamps system
System for heat anti-loss
Separate treatment (shoe-sole)
Suitable for both solvent and water based glues
Suitable for any type of footwear
Made in Italy
Scarica il catalogo completo qui: http://www.anzanimachinery.it/en/98/newsletter.html
Documents
Enter Name and E-mail to download the pdf catalogs.