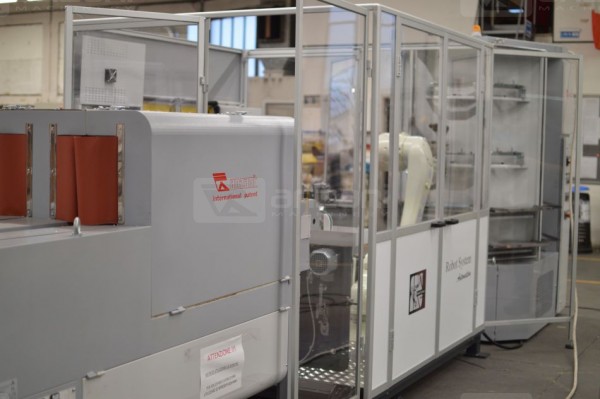 RPL
Robotic Module for Ironing, Roughing, Cementing and Cement Drying
RPL 500 is a cell system module, which carries out all the operations between the heel seat lasting and the press, fully automatically,without any operator. This new module consists of:
Ecojet Robot, low consumption heat setter, for ironing and stabilization of the shoe, adapted for allowing the robot to withdraw the shoe, at the end of the treatment.
Flexorobot with 6 axes, which withdraws the shoe from Ecojet 2 and carries out roughing and glueing, than loads the shoe in the vacuum dryer Turbo Dry 3 Robot. The robot's software allows to carry out roughing and glueing according to the model and the size of the shoe.
Turbo Dry Robot, rotary vacuum dryer, which gets loaded by the robot, once for drying the primer and the second time for drying and reactivating the glue, one operator will carry out the sole laying, than will press and will load the shoe in the chiller.
Anzani's Surplus:
Maximum production optimization
Great time saving
Great labour saving
Low working process
Suitable for any type of footwear
Made in Italy
Get the full catalogue here: http://www.anzanimachinery.it/en/98/newsletter.html
Documents
Enter Name and E-mail to download the pdf catalogs.