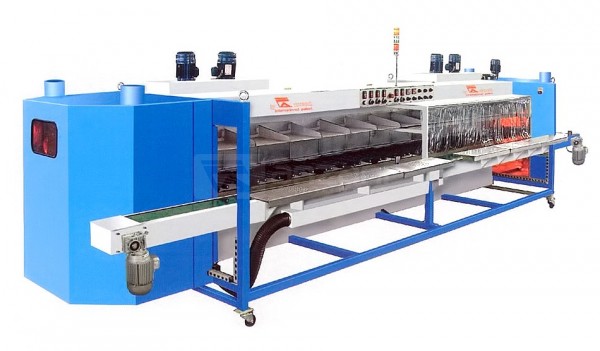 Cyclone Nir
Cement Dryer with NIR Lamps
CYCLONE NIR is an automatic rotary modular machine , for drying and reactivating the primer and the glue, both solvent and water based, on shoes, boots and soles. The treatment is made through hot air ventilation with NIR infrared lamps. The number of the trolleys can be set from 10 to 60 for shoes and boots, while for the soles up to 90. Each trolley has 2 floors, one for shoes or boots and one for soles. In case of water based glue, is available a prechamber for preventilation and it's also available, a system for heat keeping, that works outside the treatment chamber, allowing to keep the perfect temperature of the glue, during the attachment of the sole to the shoe.
Anzani's Surplus:
Very fast drying
Great time saving
Great energetic saving
More efficient production
Great results in the bonding tests
Excellent quality of the final result
Primer, first, second cementing and sole laying in the same machine
NIR infrared lamps system
System for heat anti-loss
Separate setting (shoe-sole)
Suitable for both solvent and water based glues
Suitable for any type of footwear
Made in Italy
Get the full catalogue here: http://www.anzanimachinery.it/en/98/newsletter.html
Documents
Enter Name and E-mail to download the pdf catalogs.
---
Gallery