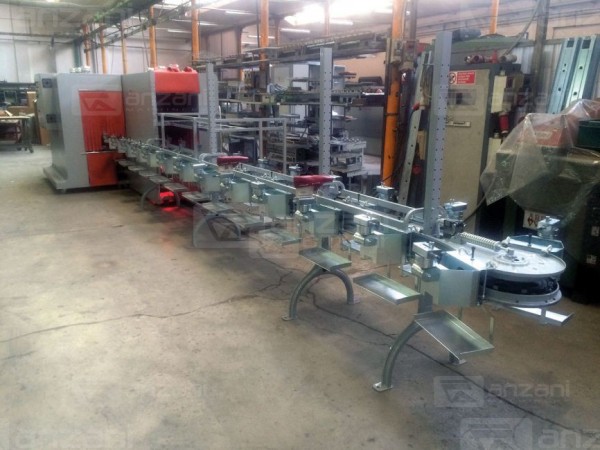 No Pick No Load
Conveyor for roughing, priming, and cementing
No Pick No Load is a timed, chain conveyor for roughing, primer and glue spreading and for drying and reactivating the glue, both solvent and water based, on shoes, boots and relative soles. No pick No load is set with special trolleys, which allow high mobility of the last, directly on the conveyor, in order to let the operators make roughing and glueing, without removing the shoes from the conveyor, avoiding the load/unload times.
After the roughing and the glue spreading, the chain moves the trolleys into the online dryers Anidros NIR, which allow a very fast drying and reactivation.
The number of Anidros NIR on the conveyor depends on how many glueings have to be done.
The great advantage of No pick - No load is sure the possibility to make roughing, priming and cementing without removing the shoes from the conveyor. The trolleys are small sized, carrying a single shoe, in order to ensure the maximum mobility of the last and to let the operator make operations on each corner of the shoe. This system eliminates all load-unload times for all phases between the marking and the press, reducing the production time for each pair, thus increasing the production and productivity.
Every second saved on a single shoe means an increase between 15 and 20 pairs per day, considering a working cycle of 8h.
Anzani's Surplus:
Very fast drying
Great time saving
Great energy saving
More efficient production
Roughing, primer and 1st glueing on the same machine
Great results in the bonding tests
Excellent quality of the final result
NIR infrared lamps system
System for heat anti-loss
Separate treatment (shoe-sole)
Suitable for both solvent and water based glues
Suitable for any type of footwear
Made in Italy
Scarica il catalogo completo qui: http://www.anzanimachinery.it/en/98/newsletter.html
Documents
Enter Name and E-mail to download the pdf catalogs.